CELEBRATE WOMEN'S EQUALITY DAY ON AUG. 25-26

The right to vote, which is the cornerstone of democracy, belongs to all Americans.  Yet, we should always remember the path that many individuals — many women — had to take to get us where we are today.  August 26th is Women's Equality
Day and on that day (or close to it), we can find ways to celebrate and/or recognize the achievements of previous and current women's rights activists.
Several members of the LWV of Southern NM will spend Thursday, August 25th with members of the SNM Women's Suffrage Alliance and meet in Anthony at the Women's Intercultural Center.  They will meet during the lunch hour for a voter event with community residents. One of the League's interests is to get more residents in the southern end of Doña Ana county to vote. If you would like to get involved, contact Co-President Eileen VanWie right away.  The Center is located at 303 Lincoln Street in Anthony. And, be sure to celebrate, in some way, Women's Equality Day, which was established by Congress in 1971.
LET'S PREPARE FOR THE NOVEMBER GENERAL ELECTION

The League of Women Voters of Southern New Mexico encourages all residents to become familiar with three Constitutional Amendments that will be on the Nov. 8, 2022 election ballot.  Click here to read the pros and cons of each Amendment.
Voters can also click on this list which provides voters with the names of the candidates that are running for statewide seats and those who are candidates in Doña Ana County.  Please talk with your friends and family to ensure they are registered to vote.  For assistance with getting registered, visit the VOTE411 website or call the Doña Ana County Clerk's Office in Las Cruces: 575-647-7428 (575-525-5951 TDD).
THE TIME TO REGISTER TO VOTE IS NOW

The primary election has passed but residents can still register to vote before the General Election in November 2022.  Click on this website which will get you started on getting registered, as long as you live in one of New Mexico's counties and you're 18 years of age. The VOTE411.org is a great lo
cation to get updated information about the candidates, races, and dates of early voting, absentee voting, and more.
The LWVSNM works with VOTE411 to get answers to League questions from all candidates vying for political seats.  Many of the candidates answered the League's questions for the Primary Election.  We are hoping to get ALL candidates to answer questions before the General Election.
OpEd BY LWSVNM: THE EQUAL RIGHTS AMENDMENT

The Equal Rights Amendment (ERA) needs to be added to the U.S. Constitution now.   Suffragist Alice Paul wrote the amendment in 1923 and got it introduced in Congress.  She and others worked behind the scenes to get the amendment reintroduced through the 1940s and 1950s. 
LEAGUE ANNOUNCES ITS NEW BOARD OF DIRECTORS

May 2022 marks the new fiscal year for the League of Women Voters of Southern New Mexico, headquartered in Las Cruces.  And, with each new year, new members of the Board of Directors are elected while some continue in their existing terms of office.  It is the League's honor to announce the Board for 2022/2023:
Co-Presidents: Eileen VanWie and Kathy Brook;
Vice President: Laura Castille, elected to a two-year term;
Treasurer: Mary Flynn;
Secretary, elected for a two-year term: Edwina Jaramillo;
Co-Directors of Voter Services:  elected to two-year terms are Dale Yeo of Las Cruces and Catherine Cochrane of Silver City;
Interim Director of Membership: elected for a one-year term, Johnnie R. Aldrich;
Director of Youth Engagement: elected for a two-year term, Kathe Kanim;
Nominating Committee: Shirley Armstrong, was elected to a one-year term as chairwoman, Ruth Jaure was elected to a one-year term, and Mary Flynn was appointed to a one-year term.
Director of Public Relations: appointed for a one-year term, Jo Galván Nash.
WOMEN'S HISTORY MONTH CELEBRATED ON DOWNTOWN PLAZA

LAS CRUCES—A community-wide event in honor of Women's History Month was held on Saturday, March 26 at the Plaza de Las Cruces (Las Cruces Avenue and Main Street).  Hundreds of residents attended the celebration which featured speeches, voter registration, music and dancing. 
The celebration was sponsored by the Southern New Mexico Women's Suffrage Alliance (which includes the League of Women Voters), which represents several organizations throughout the county, and by the City of Las Cruces.  There were also a variety of tables where information was distributed to attendees.
Women's History Month, recognized in March, celebrates women who paved the way, and those who are still fighting for and representing women and women's issues today, said Eileen VanWie, co-president of the League of Women Voters of Southern New Mexico.  Read More About the Event and See the Photos Here
 CONGRATULATIONS TO THE NEW CITIZENS

Members of the League of Women Voters of Southern New Mexico attended a recent naturalization ceremony, where dozens of residents took their oaths to become United States citizens.  The ceremony was conducted by US Chief Magistrate Judge Carmen Garza. 
The naturalization process also involves a test by the prospective residents regarding their knowledge of the USA and its governance.  The men and women who were granted citizenship were from many countries throughout the world.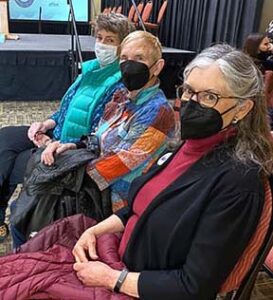 Pictured at far right is US Magistrate Judge Carmen Garza;  Attending from the LWVSNM are (left to right) Mary Flynn, Treasurer; Dale Yeo, Director of Voter Services; and Kathy Brook, Co-President.  Behind the camera was Co-President Eileen VanWie.
 CITIZEN ENGAGEMENT INITIATIVE SELECTED FOR LEAGUE AWARD

Mary Carter of Anthony, NM, has been selected as the 2022 recipient of the Making Democracy Work Award from the League of Women Voters of Southern New Mexico (LWVSNM).  Carter, the executive director for the Women's Intercultural Center in Anthony, implemented a citizenship program to educate, empower and help people who have been referred to the Center for assistance.  League Co-Present Eileen VanWie said "the award is given to an honoree who has contributed to strengthening our democracy."
STATE REDISTRICTING SURVEY RESULTS

Leagues across New Mexico have been monitoring the redistricting process that will go before the NM Legislature in the coming days.  The presence of an independent redistricting commission (CRC) for this cycle has increased anticipation that the upcoming legislative session may produce a better process and outcomes. Some results are now available from the 2020 New Mexico Redistricting Survey, which was aimed at providing policymakers, advocates, and the wider public with valuable information about how the electorate in New Mexico views the redistricting process.
LWVSNM MEETS IN HYBRID MEETINGS

The League of Women Voters of Southern New Mexico (LWVSNM) holds hybrid meetings for its organization. The regular meetings are generally held on the second Saturday of each month at 2:00 p.m. via Zoom.  However, on occasion, the meeting will also be on Zoom and in-person.  When in-person meetings are held, they are located at the Good Samaritan Society Creative Arts Room on 3011 Buena Vida Circle.
The League continues to welcome new members.  Membership dues for one-half year (November through April) are only $32.50.  (Students 16 years and older can join for free.) For more information about the meetings or to join the League, contact lwvsnm@gmail.com.
LOCAL LEAGUE BOARD and OFFICERS

The League of Women Voters of Southern New Mexico (LWVSNM) is led by a group of women who are committed to protecting Democracy and our community.  The 2021/22 Officers are:  Co-Presidents Kathy Brook and Eileen VanWie; Vice President Laura Castille; Secretary Johnnie Aldrich; Treasurer Mary Flynn;  Membership Director Nancy Stanton;  Voter Services Director Dale Yeo; Nominating Committee Chair Marjorie Burr and Committee Member Priscilla Parish.  Others appointed by the Board are Public Relations Director Jo Galván Nash, and Membership Coordinator Rosa Morales.
Las Crucens Kathy Brook is also a state Program Director and Johnnie Aldrich, the LWVSNM Secretary, serves on the state Nomination Committee member. Eileen VanWie is also a state Board member.
In 2021, the 107 female and male members of LWVSNM adopted the Eileen VanWie philosophy known as JEDI (Justice, Equity, Diversity and Inclusion).  JEDI is the foundation of all League activities, ranging from voter services to supporting education and youth engagement. The LWVSNM studies and advocates for selected issues that expand voting rights for all citizens and social justice for all residents.
Contact the League if you are interested in joining or attending a meeting: lwvsnm@gmail.com.
NEW MEXICO UNDERGOES REDISTRICTING

A new video from specialists at the US Census Bureau helps citizens understand how the census will be used in New Mexico's redistricting.  See the video here.  Following each census, the state of New Mexico undergoes redistricting.  This is an important task that involves community input.  The Fair Districts New Mexico organization – a nonpartisan group that includes a cross-section of residents throughout the state – developed a short video to help citizens understand the proposed redistricting reforms.  Click here to watch that video.
You can read about the state's Citizen Redistricting Committee's most recent work here: https://www.nmredistricting.org/
LWVSNM UPDATES ELECTED OFFICIALS DIRECTORY – WHO'S WHO 
The League of Women Voters of Southern New Mexico (LWVSNM) announced that a comprehensive directory of elected officials from Doña Ana County has been updated to reflect the outcome of the Nov. 3, 2020 General Election. The updated Who's Who is available to download. The previous 2020 Who's Who of Elected Officials with officials whose terms end Dec. 30, 2020, can also be downloaded. Copies of the directories are also located on the LWVSNM website or can be picked up at Branigan Memorial Library, City Hall and the County Government Center.
Read More

"For over 30 years, the League has produced Who's Who to promote communications with the elected public officials who serve us," Brook said.  "During that period, it has expanded considerably to include officials in Anthony, Hatch, Mesilla, Sunland Park and soil and water conversation districts, as well as Las Cruces and Doña Ana County." Brook said the directory includes phone numbers, email addresses, as well as website addresses for elected officials.  In addition to county positions, such as County Commissioners, Clerk, Sheriff, Treasurer and Assessor, the directory includes federal officials such as the President and Vice President, Congressmen and the U.S. Senators. State positions from the Executive Branch include the Governor, Lt. Governor, Secretary of State, Attorney General, and members of the Governor's Cabinet, among others.

"The League is a non-partisan organization that does not support or oppose any candidate. Once candidates are elected, it's important to get this information into the hands of all residents," said Eileen VanWie, LWVSNM Co-President. "This directory is a way to keep communication transparent for the electorate."

The 18-page directory also has contact information for the Las Cruces City Council, the three School Boards in the county, state and local judges, several state commissions, plus the managers for the local governments.

For more information about the Who's Who Directory, or to obtain a copy, contact Brook or VanWie at lwvsnm@gmail.com or 575-524-VOTE (8683).